Manufacturing and Commercialisation
Commercialisation is an essential pillar of Dottenfelderhof. It gives us the opportunity to hold the value-added chain of our agricultural production in our own hands.
We sell our products and a wide range of organic goods in our farm stores.
Opening hours:
Monday - Friday 8:00 am - 7:00 pm
Saturday 8:00 am - 6:00 pm
The wood-burning oven bakery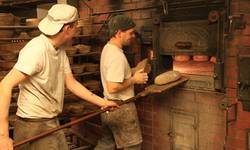 The wood-burning oven bakery transforms grain into delicious bread. Baking is done daily in two wood-burning ovens. Built without thermometers, the entire baking process requires long experience, intuition and precise observation of the fire. Our traditional handcraft confronts the living conditions of each "harvest year" anew. The grain is first milled in the farm's own stone mill to produce fully-fledged Demeter flour. Out of it, our bakers produce over 40 different types of bread from baguette to spiced rye. Bread rolls, croissants, pretzels and other baked goods complete the assortment.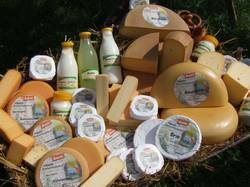 Our farm cheese dairy processes the milk of our 80 cows into cheese, yoghurt and quark. Our cheese specialities, which are known far beyond the region, have received numerous awards. They are made according to the most modern hygiene standards. The cheeses then are stored in our centuries-old vaulted cellars to mature their perfect taste.